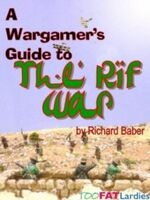 A generic, non-rule set specific guide to gaming the Riff War, written by Richard Baber, editor of the Society of Twentieth Century Wargamers magazine.
Fought in the 1920's, this conflict saw the world's first armoured amphibious landings, both the French and Spanish Foreign Legions in the thick of the fighting, and (for a change in the world of wargaming) a well equipped and motivated native force that nearly ended two nations' colonial dreams. The Riff War bridged the gap between colonial conflicts and modern day insurgency campaigns.
The Guide contains a brief history of the conflict, looking at its progress on land sea and air, and then looks at how to wargame the period, what resources there are in terms of rules and figures for building up your forces.
It also contains a dozen scenarios.
.