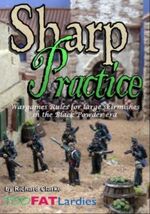 Introduction
Edit
Winner of the TMP "Best Historical Wargame for 2008" Award, Sharp Practice is a set of rules for wargaming the actions of literary heroes, with swashbuckling advantures in the black powder age. It allows the gamer to fight large scale skirmishes between 30 and 120 figrues per side.
SP was designed primarily for the Napoleonic period but can be used for other campaigns, with rules for North American indians, colonial types, small boat actions and cutting out parties, as well as a section on Napoleonic drill on the wargames table.
Designed with a figure to man scale of 1:1 in mind and forces of less than half a company but will work well for small actions with larger forces if a diferent figure is used & the Big men (leaders) are of higher rank. Examples exist of it being used for actions involving several battalions or squadrens.
SP Supplements
Edit
The following Sharp Practice supplements are available as stand alone publications.
Terrible Sharp Sword (TSS) - American Civil War
The Complete Fondler - eighteen scenarios following the career of Richard Fondler, from his time as an enlisted man in India in the1790's through to Waterloo in 1814 where he is a Lieutenant Colenel.
This Land Divided - twelve scenarios set in Georgia during the American War of Independence.
With Fire and Sword - twenty scenarios for the American War of Independence in South Carolina.
SP Variants
Edit
The following variants for SP are available either as stand alone publications or in TooFatLardies Summer or Christmas Specials
'45 Rebellion - An Action at Clifton - 2010 Christmas Special
Indian Mutiny - A Damnably Close Run Thing - 2008 Christmas Special
Franco-Prussian War - Francs-Tireurs - 2010 Christmas Special
The Second Seminole War - 2009 Christmas Special
American Civil War -Terrible Sharp Sword (TSS) - see Supplements above
Summer/Christmas Special Articles
Edit
2008 Summer
Fellatio on The Beach - Sharpes Practice Rules Launch & Scenario
A Full Nelson - Scenario - Santa Cruz 1797
The Hand of Capitaine Danjou - Scenario - Mexico 1863
2008 Christmas
Up the Arsenal - Flashman scenario for Indian Mutiny
2009 Summer
Action at Balls Bluff - ACW Scenario 1861
Fondler's Filly - Scenario - "A Compleat Fondler" Chapter 19
2009 Christmas
Lawnmower and the Pirates - Cutting out scenario
The Camden Campaign - AWI Scenarios
2010 Summer
A Matter of Mathematics - Scenario
2010 Christmas
A Hot Press - Pressgang scenario
Richard Clarke, the author of Sharp Practice has put together these videos showing how the game works.
Sharp Practice Part 1
Edit
Sharp Practice Part 2
Edit
Sharp Practice Part 3
Edit
Other SP Resources
Edit
There are a large number of resources available in the Sharp Practice files sectionof the TooFatLardies Yahoo Group. Here you will find a FAQ, playsheets, cards and scenarios.