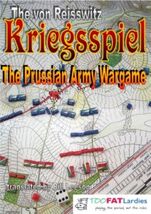 Introduction
Edit
Possibly the most important wargames book ever published, the 1824 von Reisswitz Kriegsspiel rules are unique in that they were written by a Prussian army officer who fought and was decorated for valour in the Napoleonic wars.
These rules provide not only a framework for fighting games on maps, but also provide a complete and comprehensive refrence work for anyoone who truly seeks to understand warfare of the Napoleonic period. As well as the original 1824 rules TooFatLardies publish the 1862 update, several maps and scenarios.
Kriegsspiel 1824 - the original Prussian Army Wargame (pdf)
Kriegsspiel 1862 - The 1862 rules that the Prussians used to train for their spectacular victories in Bismarck's wars (pdf)
Kriegsspiel Compendium CD. The Reisswitz Rules, the Meckel Map and the Twelve scenarios all on one CD
Supplements
Edit
Twelve Kriegsspiel Scenarios - twelve scenarios on a CD. You need the Meckel Map (see below) to play them.
The Meckel Map - CD
The Koniggratz Map - hard copy or CD
Summer/Christmas Special Articles
Edit
2007 Summer
Kriegsspiel - Introduction and origins
2007 Christmas
Corps Blimey! - World War I Kriegspeil
Umpiring Kriegsspiel - Notes
Kampfgruppe von Reisswitz Marsch! - WWII Kriegsspiel idea
He Who Would Valiant Be - Scenario - Meckel 1839
2008 Summer
Kriegsspiel 1866 - Notes and Additional Rules
The Return of the Melon Smuggler's Daughter - Participation Game Scenario - 1824
Smoke on the Water - Introductory Scenario 1866
2009 Summer
Playing Fast and Loose - Create your own Kriegsspiel Rules
Ad blocker interference detected!
Wikia is a free-to-use site that makes money from advertising. We have a modified experience for viewers using ad blockers

Wikia is not accessible if you've made further modifications. Remove the custom ad blocker rule(s) and the page will load as expected.