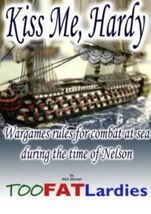 Introduction
Edit
"Probably the best thing to turn up in a ship since Nelson. These excellent rules combine a simple to learn system with historical accuracy. As for period flavour they are reminiscent of Patrick O'Brien or C.S.Forrester on a good day....simply superb."

These Napoleonic naval rules use a card driven turn sequence to create battles that are both historically realistic and fun to play. The simple game mechanics mean that KMH is particularly suitable for those easily put off by the complex arithmetic or for club games where not everyone is a sailing expert. No maths degrees needed here, just a blue cloth, a few ship models and plenty of d6.
Summer/Christmas Special Articles
Edit
2004 Summer
A Test of Seamanship - Hornblower scenario - 1803
The Boy Stood On the Burning Deck - Scenario - Battle of the Nile - 1798
2004 Christmas
Engage the Enemy More Closely - Hornblower scenario - 1807
Turning a Blind Eye: Nelson at Copenhagen - Hornblowe scenario - 1801
2005 Summer
Hornblower - On Company Business - Hornblower scenario - 1810
2005 Christmas
Time Tunnel to Trafalgar - Trafalgar refight at a Lardies Game Day
Hornblower and the Old Oars - Hornblower scenario - 1796 - Galleys
No Escape - Scenario - 1805 - the British chase the French after Trafalgar.
Refighting Trafalgar - Game report and Scenario - 1805
2006 Summer
A Life on the Ocean Wave - Career generator
Opportunity Mist - Historical scenario - 1805
Hornblower - Hornblower's first action - scenario - 1794
2006 Christmas
El Supremo's Ship – Natividad- Hornblower scenario - 1808
Algeciras - Two historical scenarios - 1801
2007 Summer
Escaping the Spanish Prison -Three scenarios featuring Horatio Nelson
Against All Odds - Hornblower scenario - 1810
2007 Christmas
Flying with the Witch - Hornblower scenario
The Brig in Buzzards Bay - Scenario - 1812
2008 Summer
Remember Nelson - Scenario - Lissa 1811
2008 Christmas
Nelson's Valentines Day Massacre - Scenario - Cape St Vincent 1797
2009 Christmas
I Wish to Amuse the Fleet - Command and control in KMH
2010 Summer
Make Sail to Montechristo - Scenario - a cutting out raid 1798
Ad blocker interference detected!
Wikia is a free-to-use site that makes money from advertising. We have a modified experience for viewers using ad blockers

Wikia is not accessible if you've made further modifications. Remove the custom ad blocker rule(s) and the page will load as expected.