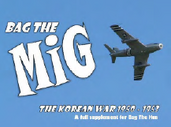 Introduction
Edit
This expansion for Bag The Hun allows players to play air actions in the Korean War 1950-1953.
It was published in the 2006 Christmas Special along with six scenarios.
There was a further scenario published in the 2007 Christmas Special and the 2010 Summer Special has an article with statistics for seventeen planes used in other conflicts during the 1950s.
Ad blocker interference detected!
Wikia is a free-to-use site that makes money from advertising. We have a modified experience for viewers using ad blockers

Wikia is not accessible if you've made further modifications. Remove the custom ad blocker rule(s) and the page will load as expected.