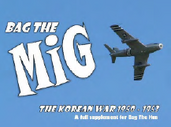 Introduction
Edit
This expansion for Bag The Hun allows players to play air actions in the Korean War 1950-1953.
It was published in the 2006 Christmas Special along with six scenarios.
There was a further scenario published in the 2007 Christmas Special and the 2010 Summer Special has an article with statistics for seventeen planes used in other conflicts during the 1950s.