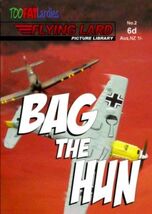 Introduction
Edit
The second edition of Bag The Hun covers all of the major nations and aeroplanes of Second World War on all fronts. It contains complete rules for not just the classic aerial dog-fights, but also comprehensive details for using bombers, attacking shipping, rockets and even V1s.
Using a card based turn sequence, Bag the Hun captures the frantic swirling feel of air warfare and reflects the skills and abilities of pilots whose names live on in legend.
BTH Variants
Edit
Over the years the following variants of BTH have been published in Summer or Christmas Specials.
Bag the Jedi - Star Wars variant - 2008 Summer Special
Fox Two - jet age rules - 2007 Christmas Special
Summer/Christmas Special Articles
Edit
2004 Summer
Bag The Hun - Designer notes and scenario
2004 Xmas
Lotnictwo Wojskowe and Fall Weiss - Poland 1939 - notes and scenario
BTH Stats - Extra Aircraft
2005 Summer
151 Wing - 3 scenarios - RAF Hurricanes in Russia 1941
Bag The Ton - Scenario - 1945
2005 Christmas
A Fine Day in 12 Group - Scenario - 1940, Battle of Britain
2006 Summer
Bob's Your Heinkel - Scenario - 1940, dogfighting over the English Channel
Aaaahhh Condor - Spanish Civil War Aerial Stats
Boulton Massacre - Scenario - 1940, Battle of Britain
2006 Xmas
Pole Attack - Scenario 1940, Battle of Britain
Madagascan Martlets - Scenario - Madagascar 1942
2007 Summer
Get Dillinger - Scenario - Pacific 1943
Patrouille Polonaise - Polish Air Force in France 1940 - 2 scenarios
2007 Xmas
Critical Damage in Bag The Hun - Expanded damage table
Mosquito Coast - Scenario - Mosquitos vs FW190s over the Bay of Biscay 1943
Are You Ready For Some Football? - Honduran-San Salvodorean War 1969 - Rules and 3 Scenarios (all 1969)
Everybody Wants An Ace - Character generation
2008 Summer
Everybody Wants An Ace II - Character generation for the minor WWII Nations
2008 Xmas
DutchCap - Scenario - British vs Germans over Holland 1940
Thunderwolf - Scenario - fighter dogfight over Normandy 1944
2009 Summer
Bag The Hun 2 - Introduction
Blue Swastika Rampant Supplement - Winter War 1939-40
Meet the Fokkers - "Blue Swastika Rampant" Scenario 1939
Six Of The Best - "Blue Swastika Rampant" Scenario - 1940
2009 Xmas
Strike Wing - A convoy attack scenario for BTH2
2010 Summer
Lifeline to Malta - Mini-campaign for BTH2
Brag the Hun - Alternative damage tables for air to ground attacks
You're having a LAAF - Simplified AA system
2010 Xmas
Reach for the Lard - Sailor Malan's rules for fighter pilots
Schwarze Vogelmenschen - The Tuskagee Airmen - background and two scenarios
BTH Links
Edit
Bag the Hun the unofficial Bag the Hun website.