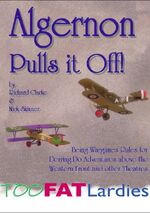 The Algernon Pulls It Off rules for WWI air warfare are not currently available. A complete set of simpler set of rules, Algernon Pulls a Fast One, is available in the 2009 Summer Special.
Frequently Asked Questions
Edit
Q: When will Algy be back in production?
A: Goodness knows. The TFL website announces that they're planned for release in July, 2009.
Summer/Winter Special Articles
Edit
2005 Christmas
Algernon Pulls it Off! - WWI supplement for Bag the Hun version 1
2006 Summer
Algernon Pulls It Off (Part One) - Scenario - Algernon & The Braun Hatta Jasta (Part One)
Algernon Pulls it Off (Part Two) - Scenario - Algernon & The Braun Hatta Jasta (Part Two)
2006 Christmas
Algy – Chapter3 - Scenario - Algernon & The Braun Hatta Jasta (Part Three)
Algy - Chapter 4 -Scenario - Algernon & The Braun Hatta Jasta (Part Four)
2007 Summer
Algernon Chapter Five - Scenario - Algernon & The Braun Hatta Jasta (Part Five)
Wave Goodbye to Adolf - Scenario - 1918
Algernon Chapter Six - Scenario - Algernon & The Braun Hatta Jasta (Part Six)
2007 Christmas
Algernon and the Vulgar Boatman - Scenario - Algernon Flies East (Part One)
Budyenny's Red Cossacks - Scenario - Algernon Flies East (Part Two)
2008 Summer
Algernon Flies South - Supplement - Campaign rules for the Alps and Adriatic
Algernon Flies East Chapter 3 - Scenario
Algernon Flies East Chapter 4 - Scenario
2008 Christmas
Last Sortie Over Rostov Bridge - Scenario - Algernon Flies East - Chapter FIve
2009 Summer
Algernon Pulls a Fast One - Algernon Pulls It Off Fast Play Rules